Disclosure: This shop has been compensated by Collective Bias, Inc. and its advertiser. All opinions are mine alone. #CreateWithHP #CollectiveBias
As much as we like to be organized, it seems insanely hard to stay on top of your game as the fall semester goes on.
Stop me if you've heard this one before: September comes and you're writing in your planner like a mad, you've color coded your class schedule and you've resolved to stay cool, calm and collected all semester long. Then like, November hits and you feel like you're constantly catching up on assignments, forgetting important dates and keeping up with readings feels like some impossible feat. Yeah, I've been there, and it sucks.
Today I'm sharing a few tips for getting and more importantly staying organized well into the semester.
GETTING ORGANIZED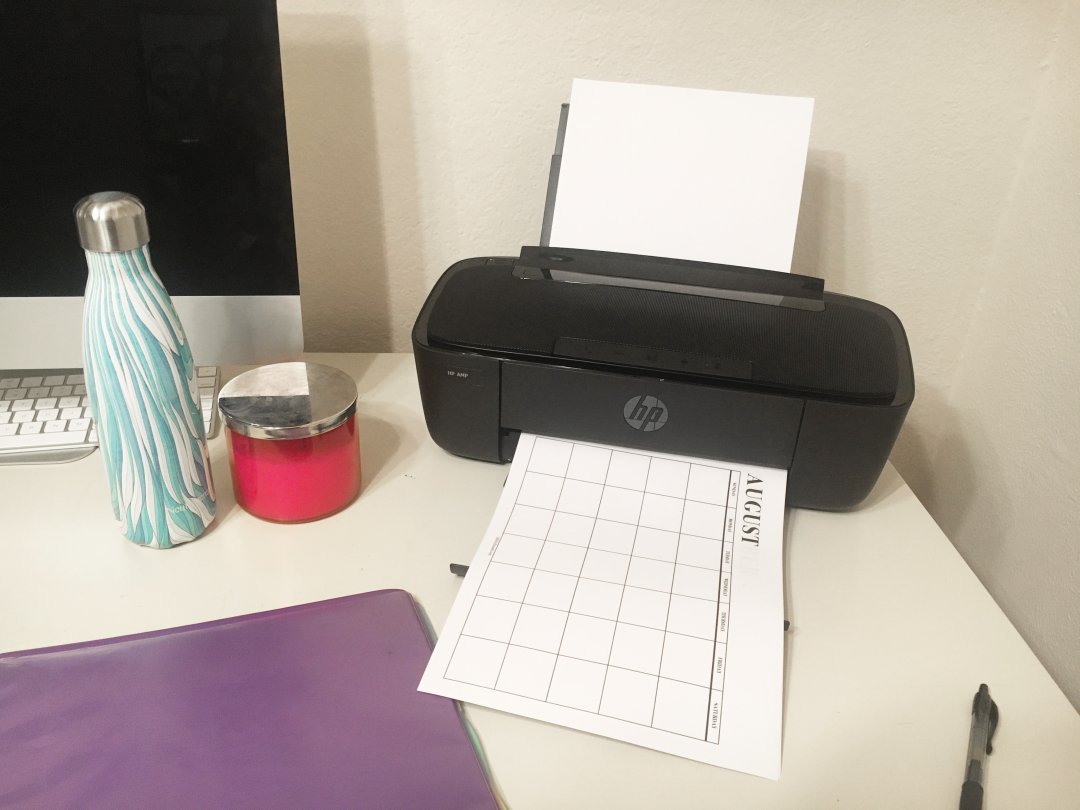 1. Print your materials
I don't understand how people can get through college without their own printer. For a semester I ran around on campus adding money to my ID, scoping out public computers on campus, and dreading having to leave early to print stuff off for class.
A printer is one of the most important college essentials that I probably wouldn't be able to function without.
I work so much better with physical notes, and it seems like there's something to print out in every class.
I use the
HP AMP 100
that's only available
at Walmart.
I love it because it's takes up very little space on my desk and doubles as a Bluetooth speaker with Smart AMP tech (meaning one less thing you have to buy for school).
It has an awesome sound quality so it's great for listening to music while studying or even taking phone call
s.
The printer automatically pauses audio streaming when it receives a print job or the mobile device receives a call. The audio stream resumes after the print job finishes or after the call ends.
You can also use the HP Smart App to quickly set up your new printer, print photos from social media, scan homework on the go and even order ink. Honestly HP is living in 3018 with all the technology packed into the HP AMP 100 for such a reasonable price. Walmart will be doing some in-store demos this back to school season so be sure to keep up with them on their
twitter
for all the updates. You can buy the printer by clicking the shoppable image at the top of this post!
Classes have probably already started for most, but if you haven't already print off physical copies of your syllabi it's super important to do so as you get them. Your syllabus is your road map for the entire semester so we'll need it later on to set up a system. Also take the time to print off calendars for the entire semester.
I designed five calendars for you to use all semester long that you can download here
or by clicking the image above.
Now's the time to get to work. Start by adding the dates to your calendar,
I made this one blank so you can use the same printable for multiple semesters.
Go through each of your syllabi and put in exams, due dates and reminders into your calendar. I like to use stickers to remind myself about extra important dates, washi tape to block out travel and highlighters to keep myself organized. Also look on your university website for important dates like census day or the drop deadline.
Here's where the magic happens. Get yourself a 1/2" binder to keep all your syllabi and hand outs in once place. It doesn't have to be anything fancy but I find 1/2" the perfect size to hold what I need and avoid extra paper clutter.
Using dividers make a tab for each of your classes. I like tabs that I can write on in pencil and erase so I can use them for multiple semesters. It's also super useful to have pockets. Hole punch and stick your syllabi behind the tab for that class and put your calendar on the outside pocket of your binder for quick reference.
You'll want to carry this binder to and from school every day so decorate or color code to make it pretty and your own.
STAYING ORGANIZED
Alright, you're organized, now how do you stay that way? These are going to be super practical tips instead of big picture ideas. It is important to mention that
I've been in college for a few years now and have figured out this system for myself,
so if you're feeling lost I'd suggest trying this out and adjusting your system according to your needs.
1. Tame your Papers
Hole punch and keep graded papers behind tabs
You won't have to reference back to graded papers often, but you want to keep them handy in case your professor didn't record it properly or something.
Keep hand outs in the tab pockets for each class
You'll likely reference these more often than your syllabus and will need to get to them quickly.
Keep things ready to turn in in the back interior pocket
Things don't get messed up as easily in the back right pocket of the binder, so this is a good place to carry assignments and stuff to turn in.
Keep things you need to file in the left pocket
I like to use this space as a sort of landing zone for things I need to organize eventually. This place is for things like graded papers that I got on the way out the door or assignments I need to take care of.
I use a hybrid bullet journal and calendar system to keep up with my day to day stuff which you can
read about here.
This system helps me keep up with both short and long term goals easily and makes sure nothing falls between the cracks. Like I said what's important is finding a system that works for you.
As assignments get moved or things come up be sure to update your calendar in your binder. As you hear about club meetings or other important things to remember quickly pull your calendar out of your binder and mark it down on your calendar.
3. Regroup once a week
The biggest tip I have for staying organized to
make a point of regrouping once a week.
This includes cleaning out your backpack, updating your calendar with any dates you've forgotten, and filing away papers into the proper spot in your binder.
I typically do this
once a week on Sunday night
so I can see what I have coming up for the week and can make a game plan for when I'm going to do what work.
I hope these tips have helped you feel ready to take on the new semester. While we can't all be naturally organized, with a few systems in place it's totally possible to stay on top of your work in college.