This post has been compensated by Collective Bias, Inc. and AcneFree. All opinions are mine alone. #AcneFreeSummer #AcneFreeLife #CollectiveBias
When I was in high school I
never
thought I'd get to be one of those girls with smooth, glowing skin. To be honest I was really sporadic with how often I washed my face, and sometimes even slept in my makeup. Now that I'm in my 20's, I've realized some hard truths that I'm about to lay down for y'all still struggling with acne:
a consistent skincare routine is the best way to get the clear skin you want.
That's why I'm sharing my nightly routine for clear skin with you guys. I still have the same, stress-induced and acne-prone skin. But with my nightly routine below, I'm able to best care for my acne, making me feel so much more confident walking into meetings at my job or teaching my freshman students. Having clear skin gives me one less thing to worry about and lets me go sans-makeup whenever I feel like it (or if I'm honest don't get around to it in my busy mornings).
My Nightly Routine for Clear skin
I use the
AcneFree Sensitive Skin 24 Hour Acne Clearing System
every night to keep my skin smooth year round, but especially around back to school season. AcneFree is the only acne clearing routine especially made for sensitive skin like mine that controls new breakouts, reduces redness and eliminates black heads (my biggest issue). The system is also the only brand that uses Advanced Micro-Benzoyl Peroxide, which is designed to work faster and penetrate deeper into your pores without harsh, over dryness from normal Benzoyl Peroxide.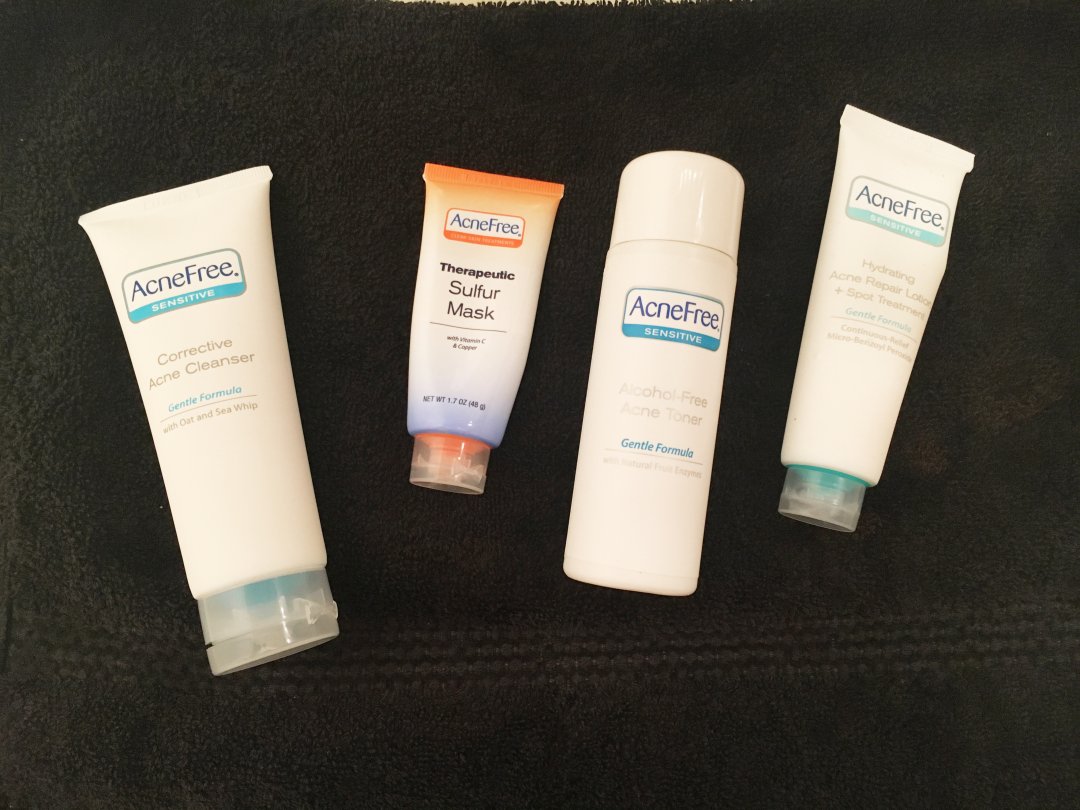 I always restock my products from Amazon because it gets shipped right to my door and is super affordable compared to other treatment systems. The system as a whole is easy to follow especially when you've fallen off the wagon on your skincare routine or if you're just starting out. You can click the image above to order both products I use daily.
1. Remove Makeup
It's so important to remove you're makeup before starting you're nightly routine. I just uses a cotton ball and a swipe of coconut oil. I pretty much only wear concealer under my eyes and some other eye makeup, so I make sure to really get that area well.
2. Corrective Acne Cleanser Daily
I shower at night, so I use my Corrective Acne Cleanser in the shower right before bed. I also use it on my chest and back whenever I see/feel blemishes working their way up. This cleanser is sulfate-free and cleans away pore-clogging oil stops impurities in their track.
A good cleanser is an important foundation to a good skin care routine and starting August 14th you can enter to win $1,000 and AcneFree supplies for a year! AcneFree is running their #AcneFreeChallenge sweepstakes so you can get visible results in as few as three days. They're also giving away weekly prizes throughout the month every T
uesday for 5 weeks.

No Purchase Necessary.
Use the form to follow on Instagram and Facebook to earn extra entries. For more information and full rules, log on to http://cbi.as/9rasp
3. Therapeutic Sulfur Mask Weekly
If I'm getting some serious chin/stress acne, I'll use the AcneFree Therapeutic Sulfur Mask to really deep clean my pores. I end up using this about once or twice a week. This mask is helps absorb excess oil and soothe my acne-inflamed skin. It uses Vitamin C, Copper, Zinc and Meadowsweet to help minimize the appearance of pores (which is one of my biggest insecurities on my cheeks) and smooths out my skin's tone and texture.
I also love that this mask is easy to use: it goes on white and you just massage it in until it turns blue (about 3 minutes), let it dry for 10 minutes, then wash it off and you're ready to go.
4. Alcohol-Free Acne Toner Daily
Alcohol is so drying to my skin, so I always look for a toner without it. The AcneFree Alcohol-Free Acne Toner has natural fruit extracts that gently calm my stressed out skin and help reduce redness. With cotton ball I swipe this all over my face and neck to gently balance out my skin tone.
I've got a really bad habit of resting my hand on my chin and jaw while I work, so putting toner on these areas makes sure dirt from my hands doesn't cause any blemishes.
5. Hydrating Acne Repair Lotion + Spot Treatment Daily
Finally I use a spot treatment for those monster blemishes and across my T zone where I normally get a little bit of dryness. The Micro-Benzoyl Peroxide absorbs effortlessly into my pores to eliminate acne causing bacteria and gives me continuous breakout control.
That's it! This system gives my acne a one two punch and helps fight blemishes year round. What does your nightly makeup routine consist of? What are you most excited about for back to school? Comment below!